Food, Pharma, Converting – Packaging
Packaging machines have to meet the most diverse specifications depending on the end product to be packed and the sector in which they will be used. Productivity, product safety, format changes, batch traceability and cleanability are key aspects that are frequently top of the list – so that almost every packaging machine requires a customer-specific concept integrating an array of drive requirements. Our portfolio includes made-to-measure solutions for the complete production line – from the primary through the secondary to the tertiary packaging. Thanks to several decades of experience and comprehensive process expertise in packaging technology, coupled with product solutions adapted to each customer's individual requirements, WITTENSTEIN is the perfect partner whenever optimal efficiency, maximum productivity, connectivity and hygienic design are called for.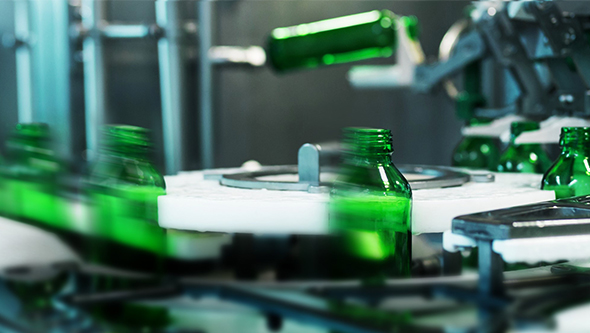 Hygiene and regular cleaning play a crucial role when it comes to primary packaging machines for food and beverages. In dry areas, on the other hand, such as labeling or cartoning, drives for industrial environments are the norm. WITTENSTEIN's product portfolio includes solutions for dimensioning servo axes, whether for primary, secondary or tertiary packaging. The entire portfolio can also be supplied with food-grade lubrication.
Our servo drives are particularly impressive in continuous operation, so that significant improvements are possible in machine productivity. WITTENSTEIN drives are renowned for their extreme repeatability and precision. Our SP+ HIGH SPEED planetary gearboxes are perfect for this type of application. They convince with very low heat development inside the gearbox and keep going for up to 30,000 hours.
Quick and flexible format adjustment is assured for individual packaging units by our comprehensive range of output shapes and bearing options for absorbing external forces. Our alpha Value Line gearboxes provide considerable flexibility here and can be selected to suit each customer's particular application.
The DP+ was developed specifically to meet the requirements of pick-and-place applications like delta robots, where it is the planetary gearbox of choice. The expertise built up over several decades has enormous benefits for customers here.
Our Hygienic Design planetary gearboxes (HDV, HDP+) and servo actuators (axenia Value) are the ideal solution whenever the highest standards of hygiene are called for.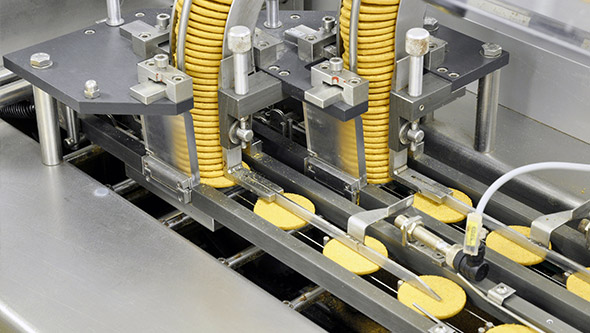 Product safety, condition monitoring and batch traceability play an increasingly important role in the pharmaceutical industry alongside classic criteria such as output or availability. WITTENSTEIN has an extensive portfolio of drive solutions for packing and bottling liquid or solid pharmaceutical products in primary, secondary or tertiary packaging. Our comprehensive range of servo drives helps customers put together a modular plant and allows them to optimize their energy efficiency and machine output while meeting the highest quality and hygiene standards. The dynamic and highly precise XP+ planetary gearbox particularly impresses in terms of power density and deserves special mention here. Our highly dynamic, high-torque premo® servo actuators have advantages when space is limited, as do the brushless servo motors in the cyber® dynamic line.
Our Hygienic Design planetary gearboxes (HDV, HDP+) and servo actuators (axenia Value) in EHEDG-design meet even the highest hygienic requirements where in-plant CIP and SIP processes are concerned.
Our cynapse® sensor module provides an initial digital link between the gearbox and the control system. An IO-Link interface in the gearbox gives customers a detailed overview of their machine's condition in the WITTENSTEIN Service Portal. Measured variables such as temperature, vibration, operating hours and acceleration as well as product-specific information on the gearbox can be accessed here online at any time. You can visualize all information relevant for the process in this way, optimize processes, reduce your manufacturing costs and make your operations generally more efficient. The portal can additionally be used to trace individual batches. The WITTENSTEIN Service Portal also allows services to be requested directly or further information downloaded, such as technical data or operating manuals.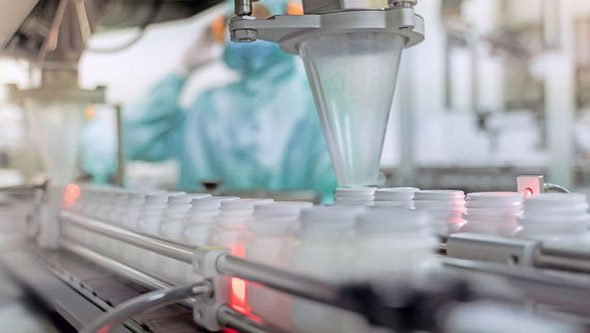 Apart from food and pharmaceuticals, our portfolio of servo gearboxes, actuators and motors is also ideal for packing paper hygiene products. For example, our drives are used in diaper packaging machines to achieve shorter cycle times and increase the output.
Quick and flexible format adjustment – say, when changing from diaper production to masks – is assured by our comprehensive range of output shapes and bearing options for absorbing external forces.
Our SP+ HIGH SPEED gearboxes are perfect for continuous operation, as a way to improve a machine's productivity. At the same time, higher speeds inevitably mean more heat and more friction in mechanical components like the gearboxes. It is therefore vital to size the drives, including any optional cooling devices, correctly. If synchronous running is a priority, we recommend our high-precision, high-performance XP+ planetary gearboxes because there technical characteristics can improve the quality of the products. Furthermore, our cymex® 5 sizing tool enables detailed drive sizing as well as optimal integration of the drive technology into the machine's overall system.
If higher dynamics are specified, we advocate a direct drive from our cyber torque motors range due to the comparatively low mass moment of inertia. WITTENSTEIN can draw on extensive expertise when it comes to extreme conditions, for instance dust, fibers, ATEX or cleanroom environments. Whatever the application, we can supply a suitable drive solution.